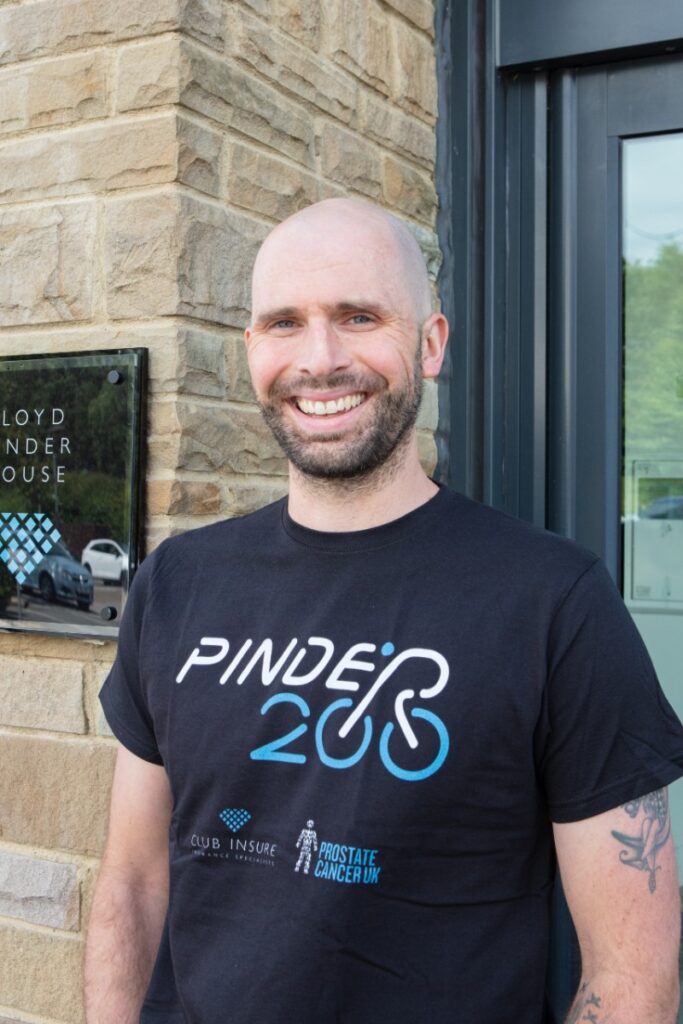 The Pinder 200 is Club Insure's fundraising challenge for 2023. The team will be raising money for Prostate Cancer UK by cycling from our new Leeds office to Sunderland's Stadium of Light in memory of Lloyd Pinder.
Nick Howell, Business Development Executive for Club Insure, will be there to once again brighten the horizon for the team on their epic journey. His positivity will hopefully help push the team along their 200 mile two-day journey.
Nick is proud to be fundraising for Prostate Cancer UK and in memory of his friend Lloyd. We asked him a few questions about his progress getting up to speed for the challenge so far.
When was the last time you rode a bike?
Last weekend was only my second ride this year, I rode to Gargrave and back, about a round trip of 43 miles. I'm stepping it up though.
What does your training regime for the Pinder 200 look like?
It's very vague. I get out if and when I can, which isn't very often. Usually, if I can peel myself out of bed early enough, I train on a Sunday morning.
My brother's still. And I'm almost certain he wants it back! It's a Specialized Allez I think.
How many practice miles have you put in for the Pinder 200 this year?
80 – in other words nowhere near enough!
What will you be eating to fuel up for the big Pinder 200?
What's your go-to refuelling snack for a ride?
Gels and Auntie Gail's flapjack, hopefully, if she makes any!
Have you ever been to the locations where you will cycle for the Pinder 200?
Funnily enough I've been to Lloyd Pinder house more or less everyday. I've been on the east coast too but never to the Stadium of Light. It'll be a first for me.
How was the challenge of the Coast2Coast?
Fantastic. And probably just right in terms of a challenge as it was tough but achievable. We had a great team ethic throughout and had a lot of laughs!
What was your funniest moment when on the Coast2Coast?
How much did the achievement of the Coast2Coast mean to you?
Everything, I was really proud to have been part of it. After working with Lloyd for the best part of 6 years we had formed a good friendship and he did a lot for me. One thing that will remain with me for the rest of my life was being at Lloyd's funeral and witnessing hundreds upon hundreds of people, probably into the thousands lining the street of his home village (that gives you an idea of how loved and respected the man was) as the funeral car turned out of his street and watching his wife Tina and two lovely girls Gracie and Lola walking behind the car carrying Lloyd. Being a father of two girls of similar ages it really hit me pretty hard and still brings a lump to my throat at the thought of how brave they all were in the face of absolute destruction and devastation. If my riding my bike for a few miles can raise a couple of quid towards ensuring no little girls have to go through that again it's the least I can do.
Do you think your team can smash the fundraising target of £10,000?
I'd really like to think so. It's going to be tough in the current climate but I'd be proud to raise any amount for a charity that means so much to me and a lot of people. I'd obviously love to hit that figure though! The more money we raise the easier the chaffing is!