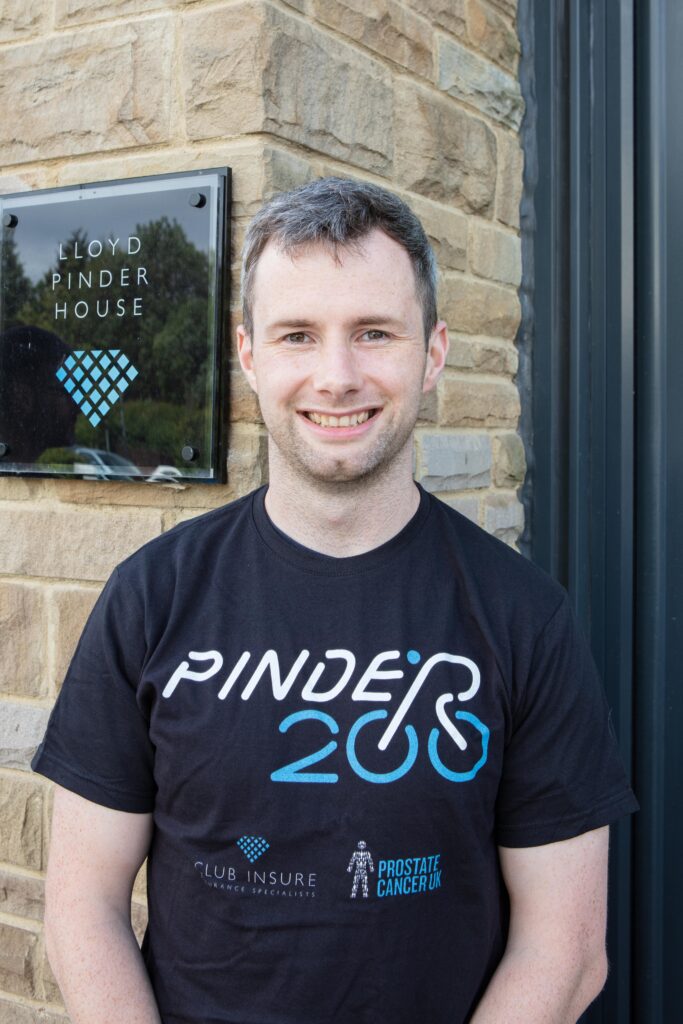 The Pinder 200 is Club Insure's fundraising challenge for 2023. The team will be raising money for Prostate Cancer UK by cycling from our new Leeds office to Sunderland's Stadium of Light in memory of Lloyd Pinder.
Billy Wakefield, Account Manager at Club Insure, has been eagerly anticipating this date since the challenge's imagining. Once a novice to long-distance cycling, Billy bought himself new equipment specifically for the Coast 2 Coast and would now be considered a long distance veteran. Having under gone a serious physical transformation over the last two years, Billy is taking the challenge of the Pinder 200 seriously.
We asked Billy a few questions about his progress and how he expects the challenge to go.
When was the last time you rode a bike?
It was yesterday for a 15 mile blast around the Chevin.
What does your training regime for the Pinder 200 look like?
Last year, I trained quite hard as I was a complete novice. This year training is a little different. My general fitness has improved a lot this year and I am keeping on the PT to help give me a boost in August in preparation for the ride. I will be aiming to get 50 miles a week done to build up to 100 miles a week before the big ride.
A heavy hybrid bike… I'm trying to borrow a road bike for this year.
How many practice miles have you put in for the Pinder 200 this year?
What will you be eating to fuel up for the big Pinder 200?
I've shifted my diet to be more protein/calorie focused and it's really paid off; I'll just carry it on!
What's your go-to refuelling snack for a ride?
Have you ever been to the locations where you will cycle for the Pinder 200?
No, but I'm looking forward to riding along the coast.
How was the challenge of the Coast2Coast?
The first day was a shock, but the second day was great. – IT was a lot flatter…
What was your funniest moment when on the Coast2Coast?
When a certain person fell off their bike a few times at the junctions.
How much did the achievement of the Coast2Coast mean to you?
It meant a great deal. Lloyd was a brilliant friend and we all still miss him so much. I'm sure he'd have loved the sight of us struggling up the hills in his name. And that we are doing it all over again! I also lost my father in law to cancer the year before the ride, so I was not lacking in motivation to do it.
Are you looking forward to doubling your efforts for the increased challenge of the Pinder 200?
Absolutely. It is longer than last year, but the elevation is less so we'll see.
Do you think your team can smash the fundraising target of £10,000?
It would be superb to see us achieve it and more!