What are Loss Adjusters?
Loss Adjusters are professionals who assess the amount of money you should be paid following an insurance claim. They are essential to the claims process and work in tandem with insurers.
Loss Adjusters will visit your premises as soon as possible after a claim has been made (depending on the size of the claim and policy terms). They will check if your claim is valid and the extent of damage. Quite simply, they are experts employed to assess what is and isn't covered by your insurance policy, and how much they deem the damage to be worth.
Do I need to appoint my own Loss Adjuster?
Loss Adjusters are generally appointed by insurers following a claim. Loss Adjusters are instructed by an insurance company, but should remain independent.
In our experience, we are finding that even in straightforward cases there can be serious delays in accepting policy liability. This causes frustration and uncertainty as well as the obvious financial issues resulting from an interruption to cash flow.
As your Broker we will always assist in sorting out your claims, but insurers require that a claim must be professionally valued and proven. To resolve this issue, Club Insure have started a partnership with Qlaims Loss Recovery.
Qlaims Loss Recovery provides club operators with a team of claims experts, surveyors, and forensic accountants. These specialists will work with us at Club Insure to value and successfully negotiate your claim. Ensuring you get full value under the terms and conditions of your policy.
What is a Loss Assessor? Who are Qlaims Loss Recovery?
A loss assessor works on the side of the policyholder to provide a balanced view – comparable to the loss adjustor. Whether your business has been damaged by fire, flood, storms or illegal entry, a loss assessor will provide you with a reliable figure equalling the maximum possible estimate of your claim.
Qlaims Loss Recovery are a loss recovery agency who offer specialist risk assessment solutions. They are a group of experts ready to visit your site and provide a personable reliable service. Club Insure have chosen to work with Qlaims Loss Recovery because of their professionalism, great results and positive reviews.
For a modest cost, they provide you with a full insurance claims handling service to ensure you receive the best help available when you suffer a major loss. This cover can be added at any time during the year, not just at renewal.
How do I appoint my own Loss Assessor?
Due to the increase in fraudulent claims, Insurers' attitudes have hardened considerably. Nowadays Insurers will invariably call in their own specialist Loss Adjuster to value the claim you present. This is why it's important to use a Loss Assessor you can trust to provide you with an unbiased second opinion, and help you fight your corner.
Qlaims insurance work with Club Insure on reported claims, therefore to get a reliable loss assessor, all clubs needs to do is ring Club Insure following any loss as per normal, with no additional charge.
This is an invaluable service if you have to make a claim as it provides businesses with a much more efficient service. Getting clear guidance on what to do to minimise disruption in some cases is key to getting a business back up and running again.
Your Loss Adjuster can collate information to support a business interruption claim if the premises has been unable to trade for a while. This leaves you to do what you do best – running your business.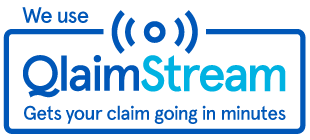 What is QlaimStream?
In partnership with Qlaims, in cases where you have sustained damage to property, we now use QlaimStream. QlaimStream is a live video streaming platform whereby we can send a text message to your phone which converts it to a one-time video camera enabling us to view and record the damages immediately.
This technology is fantastic for offering us instant access to your property, and allows us to process your claim far quicker. Perhaps if your premises is particularly remote or inaccessible, QlaimStream would be a superior option, instantly putting you in touch with a necessary Loss Assessor.
Do you require a Loss Adjuster?
Have you experienced damage or need to make a claim?
Contact Club Insure for advice on how to proceed.