What is The Banknote Checking Scheme?
On the 30th September 2022, all paper £20 and £50 notes will be withdrawn and should not be accepted by businesses. They have been replaced with polymer notes that entered circulation in early 2020.
Advice from the Bank of England indicates that businesses should be wary of worthless counterfeit notes. The National Crime Agency have notified businesses that a wider range of counterfeits of polymer Scottish notes are being seen in circulation. Businesses need to know how to protect themselves against counterfeiters and counterfeit cash.
The Banknote Checking Scheme is a movement that supports cash handling businesses and deters criminals. Partnered companies have access to a range of resources and training materials.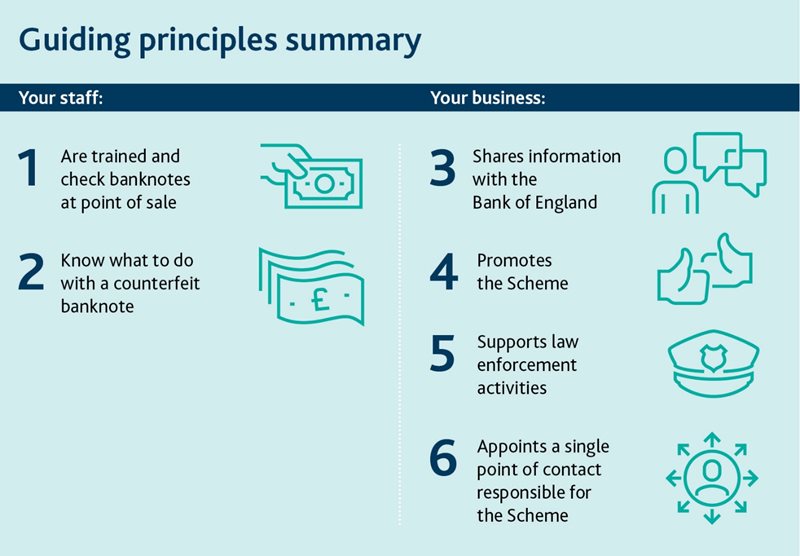 How to identify counterfeit cash?
Counterfeiters target businesses where they know that banknotes aren't being checked properly. People trying to use counterfeit banknotes will often try to buy a low-value item using a high-value note such as a £20 note. This is so that they can get away with your stock and money from your till.
So we advise you to check notes at the point of sale. Checking banknotes is quick and easy. A short video on banknote security from the Bank of England is available, showing how your employees can check the validity of Bank of England banknotes:
More counterfeit cash teaching materials and resources
The circulation of Counterfeit Polymer Bank of Scotland £50 notes were notified in December 2021 and these continue to circulate.
In order to assist businesses in determining whether the Polymer Scottish £50 notes they receive as payment are genuine, the ACBI following consultation with the UKNCO have produced the document Know your Scottish Polymer £50 notes. Image of the Genuine RBS £50 and included detail of the UV security feature in the genuine notes.
In light of the NCA's advise, The Bank of Scotland have also issued information on how to identify fraudulent Scottish banknotes. They offer advise concerning the new note design.
You and your employees need to understand the difference between fraudulent banknotes and real ones, and know the common issues found with fake cash.
The Association of Commercial Banknote Issuers have issued some excellent posters which can be put on display to assist your workers.
What to do if you get a counterfeit note
Make sure your staff know what to do if they suspect a note is counterfeit by having a clear company policy and protocol. Staff need to ask themselves these questions, and then follow these steps:
Are you suspect of counterfeit cash?
Is the customer still present?
Does the staff member feel at risk?
Steps to take if you think banknotes are counterfeit:
Make a record of the payment and ask the customer to pay with something other than the counterfeit cash.
If the customer does pay with something else, keep the counterfeit cash. Take the counterfeit cash to a police station for investigation. The police will give you a receipt for the counterfeit cash, if you have not been reimbursed already. The fraudulent customer may or may not be charged by the police.
If the customer becomes aggressive call the police and have them deal with the situation. Try to not let the customer leave the premises.
If you have no knowledge of who gave you banknote, take the fake cash to a bank of England/Scotland and they will give you a receipt. Tell them about the time and place you think it could have happened and they will record the incident and provide further guidance on how to avoid this in future.
What can be used to identify counterfeit cash?
1. Ultraviolet (UV) lamps
A UV lamp which emits light at around 365 nanometres is ideal for checking the fluorescent features on all our notes. It is not advised to use LED (Light Emitting Diode) devices, such as key-fob style detectors. Some counterfeiters do attempt to copy UV features, so make sure your staff know exactly what to look for, such as the colours used in the UV numbers.
2. Detector pens
Detector pens don't spot counterfeits printed on polymer. They work by reacting with the starch present in 'normal' paper. They can detect some counterfeits printed on paper, but not all. If you do use one, remember old or dirty pens can be unreliable.
3. Using banknote authentication machines
If you use a machine to check banknotes, make sure it can spot the latest counterfeit notes – being the new £20 and £50 notes. It enables manufacturers to test their machines with counterfeit banknotes to ensure they only accept genuine banknotes.
4. Train your staff
Staff with a trained eye is the best way to catch out counterfeit cash. Teach staff to check the hologram image, the see through window, the raised print of the polymer and the green foil patch, as this are the most difficult motifs to replicate.
What to do with damaged notes?
Banks will reimburse businesses the face value for genuine notes that have been accidentally damaged. As a general rule, there should be evidence of at least half the note.
Stay up to date with counterfeit cash scams
At Club Insure it's our mission to help clubs. Counterfeit money can seriously jeopardise a club's finances if not protected against. Ensure you remain protected by keeping an eye on The Bank of England's news around counterfeit cash in circulation. And keep tabs on our Industry News page for up to date information on the issues that matter to you and your club.