According to recent reports, golf might have an image problem. Wales lost 4% of its golf club members in 2021 and over 10,000 English golfers gave up their subscriptions in a year which saw European golf memberships fall by 0.6% overall to just over 4 million members.
There are a degree of factors this could pertain to: the pandemic, the year's poor weather, the lack of sporting events to be inspire golfers to get out and play. However most commonly noted is the lack of young people playing the sport. With more people dropping out than taking up the sport, it suggests that golf as a whole is struggling to attract a new audiences.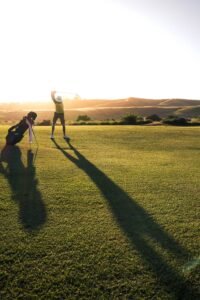 In years gone by, golf was seen as a game for retired men, but the emergence of media friendly superstars like Rory McIlroy, Jordan Spieth and for a time, Tiger Woods, seemed to put an end to that. But with Muirfield golf club only abandoning their male-only membership last year, it still seems as if golfing-life is an exclusive club.
Golf is still the 5th most played sport in the country. Statistically, golf courses occupy more English land than housing does (English golf courses occupy 2% of total land area, housing 1.1%). But the four sports above it in the table, swimming, athletics, football and cycling, all seem to be bringing through a new, younger and a more diverse playing population. The image presented for many, is that the golf courses of the UK are dominated by the 30-60 year old white males.
Of course there are a number of factors that the sport can't control. Golf will always be a more expensive game than football and athletics, for instance. In those sports, all you need is a ball, your health and a patch of grass. In golf, you have to consider the cost of clubs and upkeep of the course, clubhouse and facilities. There are definitely some barriers to participation as well. Applications to join many clubs are still via referral only, which stops anyone outside of the golfing community from taking part. Not enough clubs are working to increase the diversity of their membership.
We want to hear from your club
We know there are clubs out there trying to make a change in the sport an actively encourage more diversity and inclusivity and inject youth into the game. If you are part of a club that is making change, then please tell us.
We also want to know:
How much representation of females or ethnic minorities are there in key positions at golf clubs in 2021?
How many clubs are actively seeking memberships from poorer communities by offering free trials and reduced/sponsored subscription fees?
How are clubs actively engaging with schools, colleges and universities?
We'd love for you to get in touch and let us know whether you think your club is doing enough to attract new audiences. We'll share the information, spread the message and put together a new article based on the responses.