Cycling a grand total of 173 miles, the team from Club Insure and The Romero Group will cycle in convoy from England's west to east coast. The challenge is aimed to raise money and awareness for Prostate Cancer UK and in memory of Lloyd Pinder.
Adrian Hiley, Account Executive in the customer services team, is an experienced cyclist who will be joining the team. A keen mountain biker, Adrian has cycled up the hills of the UK and of Europe. He is going to be a valuable team member on the team's 173 mile ride across the country.
Adrian is excited to take up the challenge, not only because he loves testing himself on two wheels, but also because of the important cause. Please help Adrian and the team reach our £10,000 target by donating and sharing.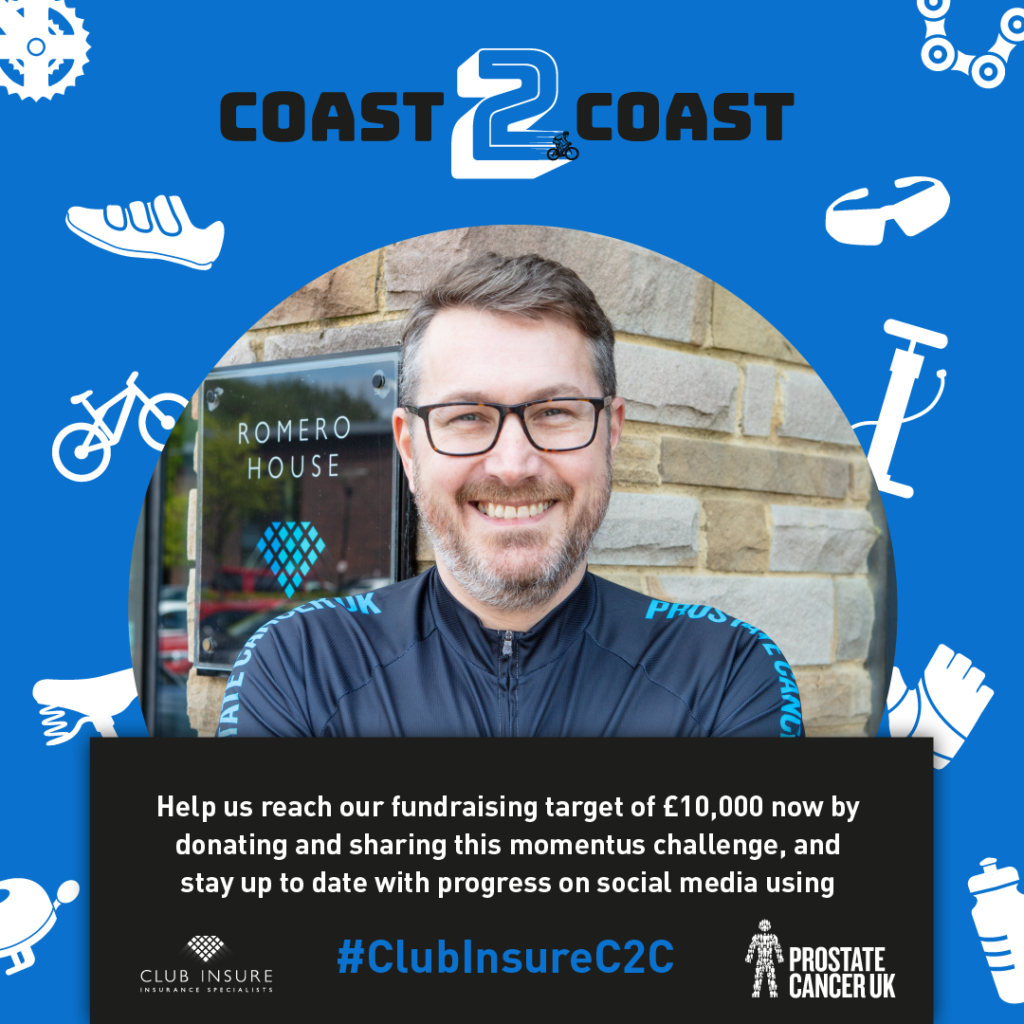 My summer bike is a NeilPryde Zephyr Ultegra. My winter bike is a Planet-X London Road SL.
What made you start cycling?
I grew up near some woods in Sheffield popular with mountain bikers including World Downhill champion, Steve Peat. I thought they looked really cool so decided to give it a go. I was 15 and got hooked immediately.  Swapped to road cycling when I was around 30 as the mountain bike injuries were taking too long to heal.
What's the longest ride you've done?
There's a route called the 3 counties which goes from Sheffield to Leek in Staffordshire and back. 90 miles across the 3 counties (South Yorkshire / Derbyshire / Staffordshire) and crossing the Peak District both ways. Tough ride. I used to be quite fit…
What's the best place you've gone cycling?
Best place I've ever ridden is the Sierra Nevada in southern Spain, near Granada. One day we rode from a village in the mountains to the top of Pico de Veleta which is about 3,400m above sea level then all the way to the beach. Going from snow to sunburn in one day was incredible. Plus the coffee and tapas in that region is unbelievable.
What's your favourite exercise snack?
What part of your body aches first after a long ride?
With cycling it's the quads at the front of your thigh that do the hard work. They always start to burn first. Long rides always seem to give me cramp in the hamstrings though, which is worse.
What's the essential piece of cycling gear you couldn't do without?
Bike & helmet are a given, but after that it's sunglasses. I wear contact lenses and picking small flies out of your eyes is not fun.
Back to mountain biking. Riding down Dollywaggon Pike coming off Helvellyn in the Lakes. It's a fast rocky track and a rock kicked up and loosened the quick release on my front wheel. Wheel came out and I went over the bars at around 20mph, landing shoulder first on another rock. Dislocated shoulder, broken collar bone and 3 cracked ribs.
Luckily, one of my riding buddies at the time was a nurse and he was right behind me. He distracted me and put my shoulder back in before the swelling made it impossible. I screamed all kinds of expletives at him at the time and nearly blacked out from the pain, but he saved me surgery and 12 weeks of rehab by doing it. Had to walk the last 1.5 miles off the mountain to the cars with a sling on, then off to hospital.
Have you attended any cycling events?
Went to see the Tour de France when it came through Sheffield in 2014. Also been to the World Championships at the velodrome in Manchester way back in 1996. Been to loads of mountain bike races and endurance events too, but racing not watching.
Lycra or T-shirt and Shorts?
Lycra every time. Way more comfortable.
Adrian's recent progress
Adrian has been updating us on his training progress. This weekend he reached the summit of Holme Moss in Kirklees which is a 7km climb at an elevation of 1,719ft. The peak was used as a stage for the Tour De Yorkshire in 2014.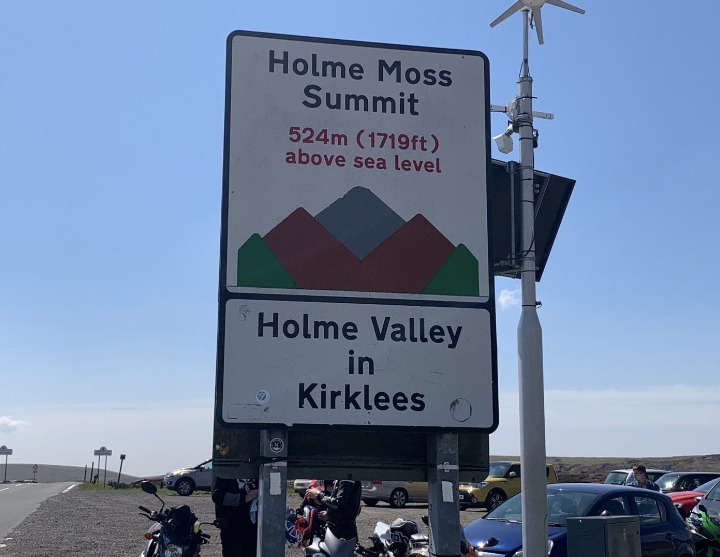 The Challenge
The team have set an ambitious goal of raising £10,000 for the charity, on top of the £25,000 donated annually by the business. Club Insure and The Romero Group continue to have that same commitment to supporting Lloyd and the cause close to his heart, which is why his determined spirit lives on in all the work they do to fundraise for Prostate Cancer UK.