Cycling a grand total of 173 miles, the team from Club Insure and The Romero Group will cycle in convoy from England's west to east coast. The challenge is aimed to raise money and awareness for Prostate Cancer UK and in memory of Lloyd Pinder.
Nick Howell, Business Development Executive for Club Insure, will be there to lighten the load for the team on their epic challenge. Despite being full of humour and wit, Nick has started his training in earnest, eager to go all-out across the 173 mile two day event.
Nick always brightens the office and is the perfect advocate to help raise the profile of the event. He'll be spurring the team on as well as holding his own on the road, and is proud to be participating in a fundraiser in memory of his good friend Lloyd Pinder.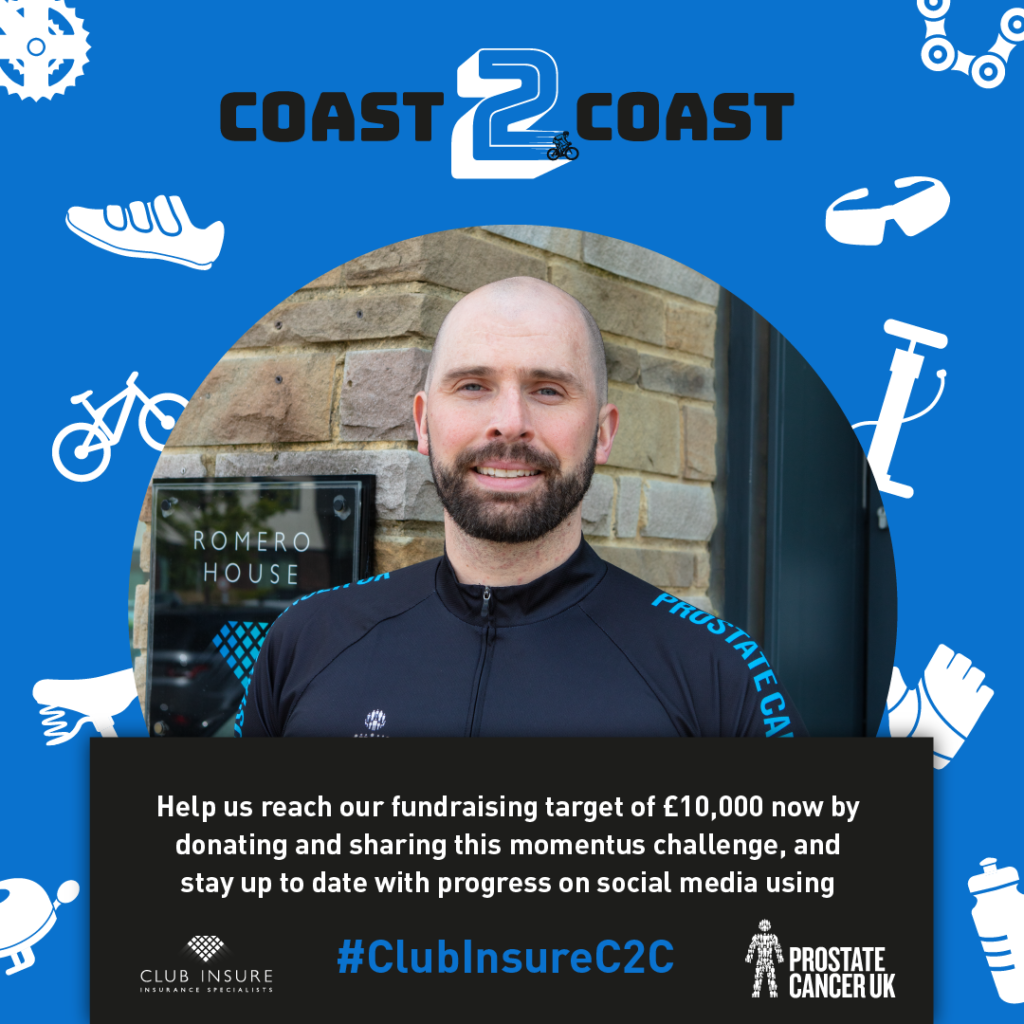 My brother's, it's a Specialized Allez sport.
What made you start cycling?
An inspirational bloke called Lloyd Pinder.
What's the longest ride you've achieved?
To date, 55 miles – and my bum knows it.
What's your favourite ride?
I can't say I've particularly enjoyed any of them.
What part of your body aches after a long ride?
Easier to say what part doesn't hurt. My back's terrible and its recently become apparent my knee doesn't particularly enjoy cycling.
What's the essential piece of cycling gear you couldn't do without?
What's the worst cycling accident you've had?
None yet – touch wood – and lets hope I don't have any soon.
What's the best place you've gone cycling?
Surely there's no where better than Gods' own backyard?! Yorkshire has the best spots cycling has to offer.
Have you attended any cycling events?
When the tour de France came to Yorkshire, I worked behind the bar at my mate's pub.
Lycra or T-shirt and Shorts?
Bright lycra – preferably in pink.
The Challenge
The team have set an ambitious goal of raising £10,000 for the charity, on top of the £25,000 donated annually by the business. Club Insure and The Romero Group continue to have that same commitment to supporting Lloyd and the cause close to his heart, which is why his determined spirit lives on in all the work they do to fundraise for Prostate Cancer UK.