Cycling a grand total of 173 miles, the team from Club Insure and The Romero Group will cycle in convoy from England's west to east coast.  The challenge is aimed to raise money and awareness for Prostate Cancer UK in memory of Lloyd Pinder.
The ride is no mean feat. The cycling team have been committed to a strenuous training regime leading up to September, cycling 300 miles a month in training to prepare for the long slog across the country.
Club Insure Managing Director, Simon Mabb will be taking part. Simon has been rigorously training in preparation for this event, it being almost 15 years since his last ride. He's so proud to be able to cycle and fundraise in memory of friend and colleague, Lloyd Pinder.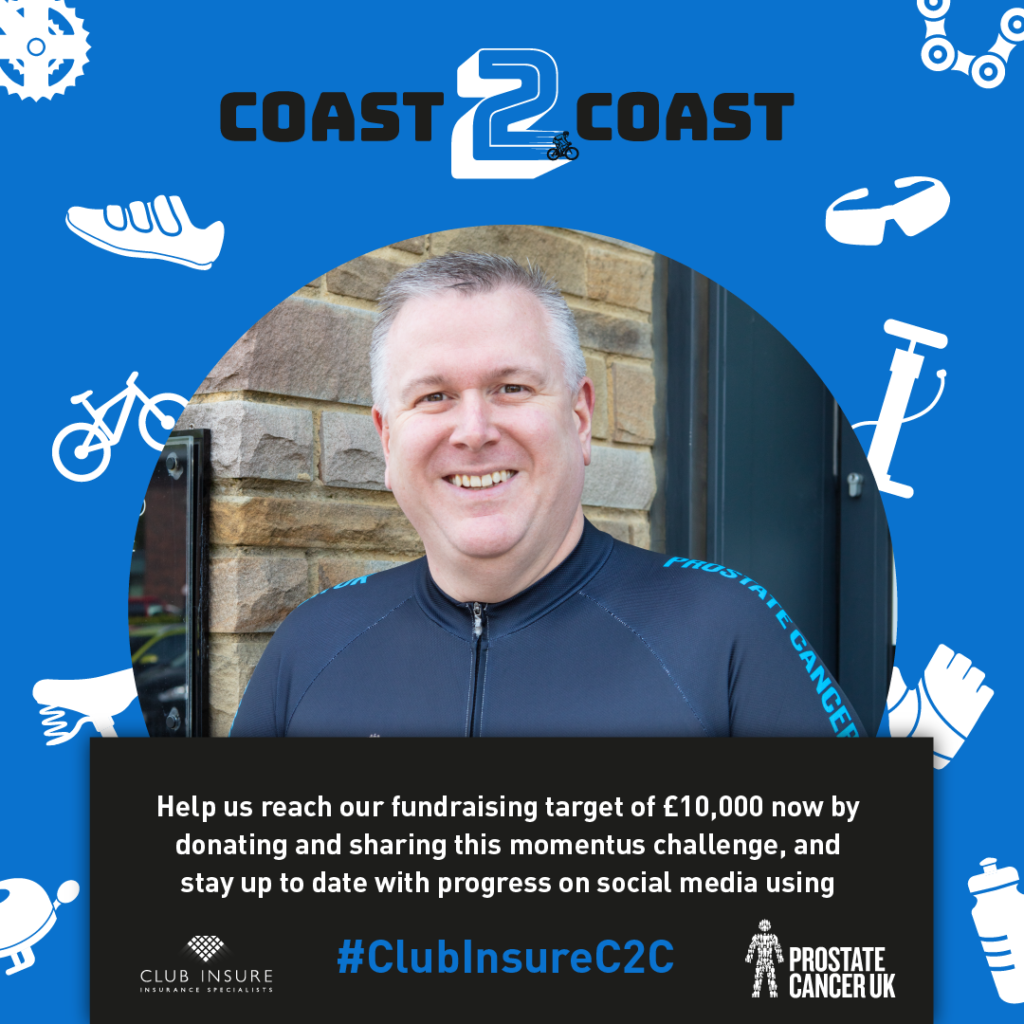 Trek Domane with frame-integrated storage (it has a cool storage thingy)
What made you start cycling? 
I started again for this challenge to support PCUK and in memory of our friend Lloyd.
What's the longest ride you've done?
The longest ride I've done was as part of my training for this. I've reached 46miles in one sitting.
What's your favourite ride?
What's your favourite exercise snack?
What part of your body aches first after a long ride?
The top of my legs currently.
Essential piece of cycling gear you couldn't do without?
I've not had one on the road bike yet but have been over the handlebars on my mountain bike a few times. Its not something I want to do again in a hurry!
What's the best place you've gone cycling?
Mountain biking in the alps in the summer – views to die for and chairlifts so you don't have to bike up with hills!
Have you attended to any cycling events?
One of my best experiences was riding in the back of the commissures car on a leg of the Tour de Yorkshire.  It was organised by Global Autocare one of our clients and you had live first-hand experience of being in the race and seeing it all develop.  It was one of the best things I've been part of as I love live sport and you don't get much more live than amongst the riders.  
Lycra or T-shirt and shorts?
Lycra all the way – I need all the assistance with reduced wind resistance I can get!
The Challenge
The team have set an ambitious goal of raising £10,000 for the charity, on top of the £25,000 donated annually by the business. Club Insure and The Romero Group continue to have that same commitment to supporting Lloyd and the cause close to his heart, which is why his determined spirit lives on in all the work they do to fundraise for Prostate Cancer UK.
It's been almost 15 years since I was last in the saddle, so I'm looking forward to getting back on two wheels and taking part in this amazing challenge for Prostate Cancer UK. We've got a great team around us, and it's all in memory of a man who I'm proud to have called a friend.

Managing Director, Simon Mabb.