Cycling a grand total of 173 miles, the team from Club Insure and The Romero Group will cycle in convoy from England's west to east coast.  The challenge is aimed to raise money and awareness for Prostate Cancer UK and in memory of Lloyd Pinder.
CEO of The Romero Group and Club Insure, Justin Romero-Trigo will be leading the convoy. He has been looking forward to this event for a long time. He usually cycles around his home in Yorkshire and when away in Portugal. It's his drive for the charity and the cause which has seen the challenge become what it is, upping the fundraising target and profile of the event.
Justin wants to raise as much funding as possible for Prostate Cancer UK in memory of his friend and colleague, Lloyd Pinder. This event's goal is not only to raise money, its intention is to also encourage men to try to understand their health. Along the route, the 9 riders will be stopping off at sports and social clubs, each connected to Justin, in the effort to share Lloyd's story.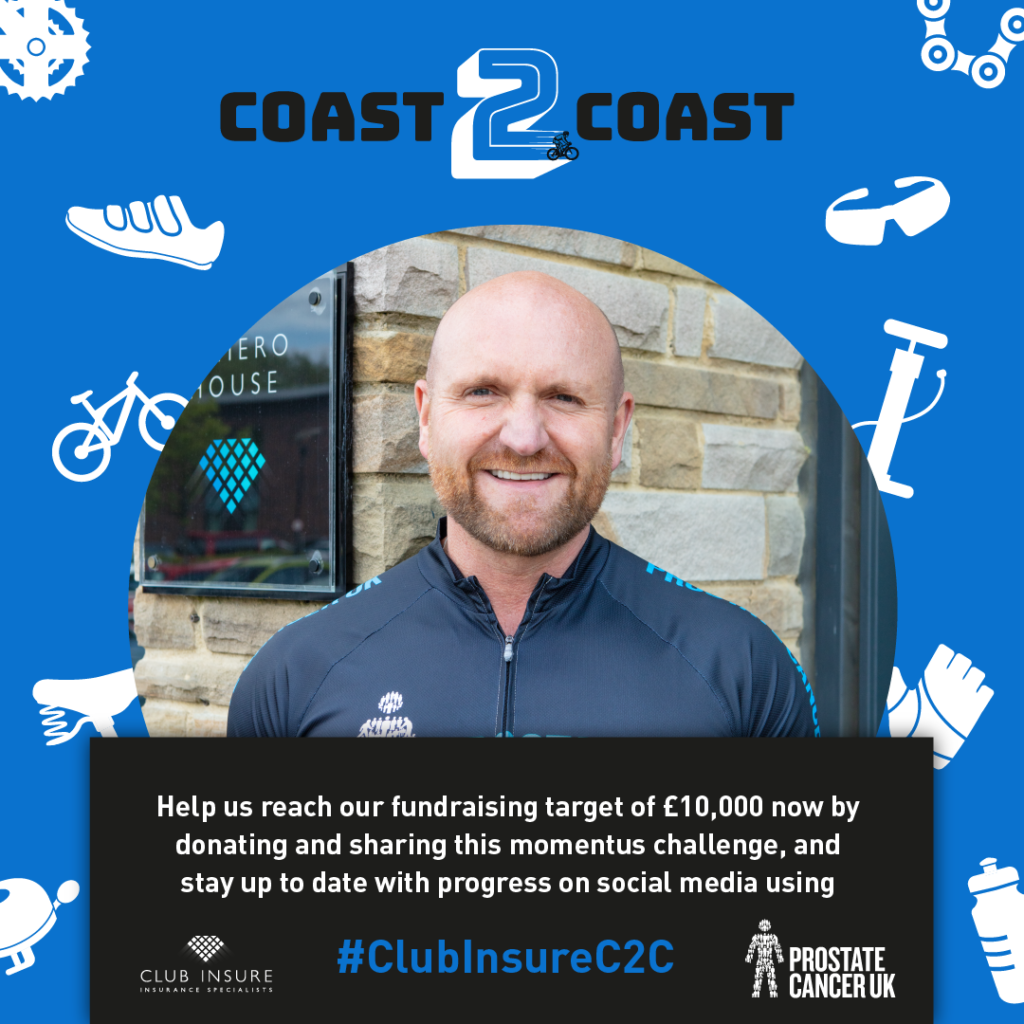 Cervelo Caledonia Road Bike.
What made you start cycling?
I started riding in 2019 to complete in the Ilkley triathlon.
What's your favourite ride?
My favourite ride is in Boliqueime in Southern Portugal. The hills are relentless and its a huge challenge.
What's your favourite exercise snack?
Jelly babies are a must for instant hit!
Last year I went to Bolton abbey and back which was 100 miles and I didn't take any gels or snacks and so I cramped up on the hill to Adel.
Essential piece of cycling gear you couldn't do without?
I've only got one set of cycling kit. My favourite piece is now my Prostate Cancer UK top dedicated to my main man, Lloyd Pinder.
What's your worst cycling accident?
I've not had many cycling accidents but I did get run over on Shadwell Lane 6 weeks ago. The lesson to self is to wear a luminous jacket and remember, cars are made of steel!
What made you think of organising a challenge and what drove you take up the coast2coast?
Losing Lloyd was devastating to all of us. We couldn't sit idly by and let countless more men go through what he did. That's why I wanted to do something together with the fantastic team I have around me to give back even more to the charity.
I'm proud that so many of Lloyd's friends and colleagues have risen to the challenge, and I hope that together we'll do Lloyd proud.
The Challenge
The team have set an ambitious goal of raising £10,000 for the charity, on top of the £25,000 donated annually by the business. Club Insure and The Romero Group continue to have that same commitment to supporting Lloyd and the cause close to his heart, which is why his determined spirit lives on in all the work they do to fundraise for Prostate Cancer UK.