Our Coast 2 Coast cycling team at Club Insure met up with Jeff Stelling and Chris Kamara at Headingley stadium.
Jeff Stelling is currently leading his march for Prostate Cancer UK. The epic charity walk consists of four marathon-sized marches over four consecutive days.
On the Harrogate to Leeds leg, spearheaded by the Sky Sports presenter and fellow partner-in-crime Chris (Kammy) Kamara, the marchers were greeted at Headingley stadium by our motley crew.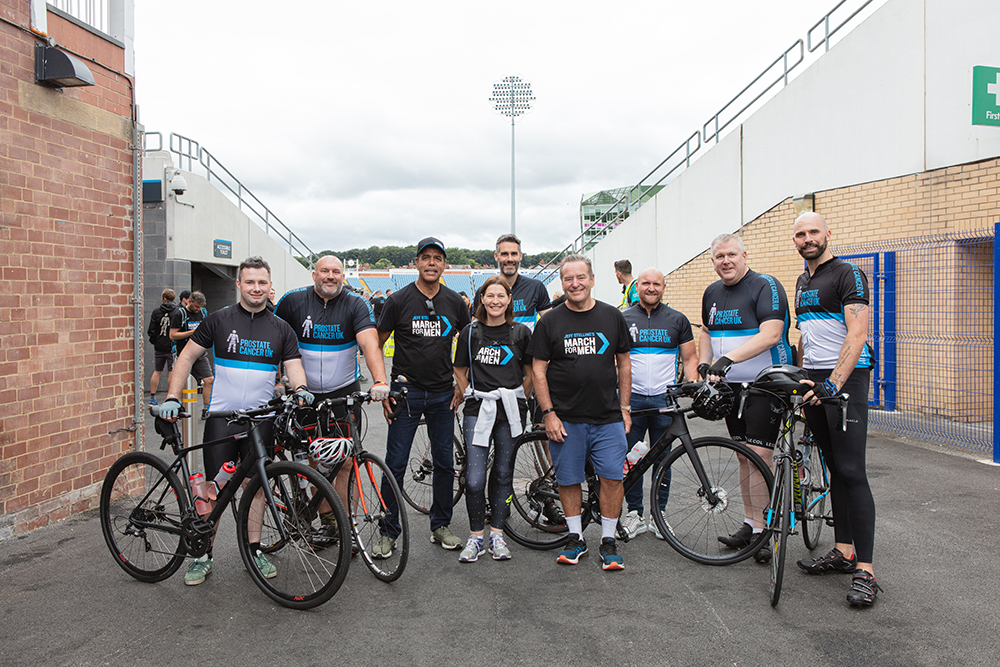 The Club Insure Coast 2 Coast cyclers were all sporting their best attire, ready and waiting for the charity march.
A group of colleagues from Club Insure have challenged themselves to cycle from coast to coast, from Morecambe to Bridlington, raising money for Prostate Cancer UK. The 173 mile trip follows tireless work and commitment put into fundraising by friend and late Club Insure director, Lloyd Pinder.
Lloyd died of prostate cancer at only 49 years young. He became a close friend of Jeff Stelling throughout the various marches they completed together. Lloyd's wife Tina took part in the march as well as many others who knew Lloyd personally, including his past teammates and those who have read his story.
Jeff was more than happy to see our boys in blue at the Emerald stadium. Upon arrival he joked "It's a little bit easier than walking!" and then greeted the team with a jubilant smile.
He couldn't believe the Coast 2 Coast team were planning to complete their challenge in only two days, a feat which Mr. Kamara remarked was "Unbelievable Jeff!"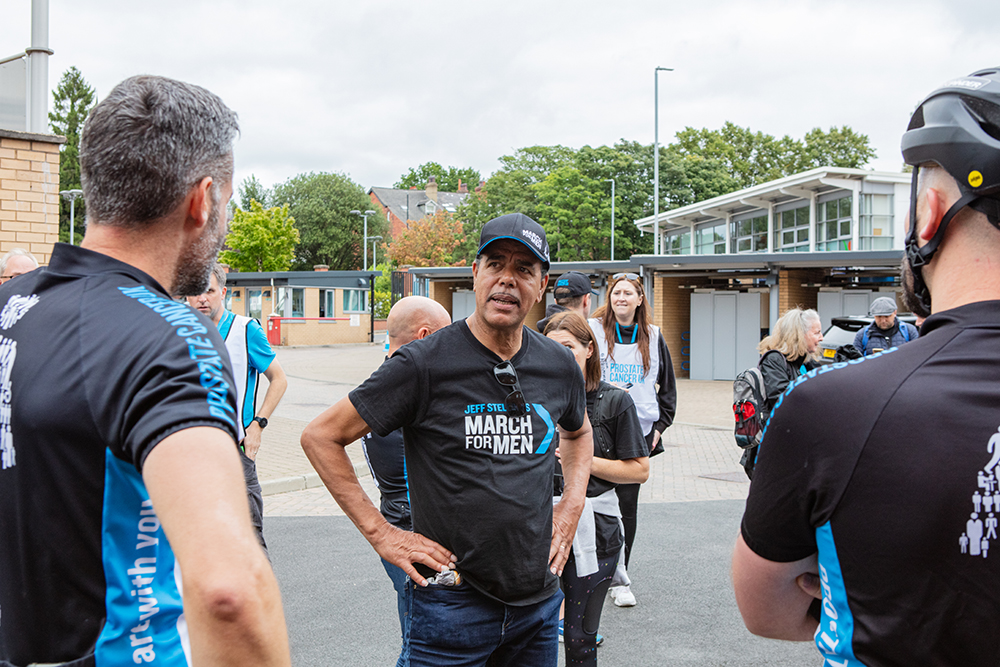 Jeff's March for Men is currently underway, having marched from Newcastle to Sunderland. Then the second leg Harrogate to Leeds, then through Merseyside with a walk from Tranmere to Liverpool. Then onto Millwall for a final trip through London to Tottenham Hotspur stadium.
To find out more information about Jeff Stelling's March for Men 2021, see here:
The Club Insure team will be riding out of the west of England on the 24th September. They are fundraising and raising awareness of an awful disease which kills one man every 45 minutes. Learn more about their effort, wish them luck and donate to their cause here: