Getting to know the Clients of Club Insure
At Club Insure, not only do we like to build a solid relationship with clubs and businesses, we also aim to understand their individual needs and risks. We find this is the most personal and effective way to operate, ensuring our clients get the policy that best suits their requirements.
We spent some time with Bradford Golf Club Captain, Nick Fraser. Nick is a local Loss Adjuster with an avid interest and strong connections to the community. He also resides as the Guiseley Cricket Club Chairman. His position reflects how, often, clubs are supported and rely on the community for their day to day upkeep. At Club Insure we understand the importance of the local community to clubs, big and small, and we work hard to protect them.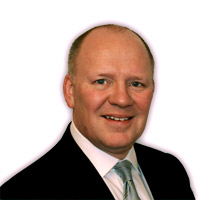 Questions with Nick Fraser
Bradford Golf Club Captain
Who do you work with most closely as a golf club captain?
In my role as gold captain I work with all members of the Bradford Golf Club Board, but especially the President. I also work closely with the Golf Operations Manager, the Events & Marketing Manager and the Clubhouse Operations Manager.
How did you first get involved with golf?
I started as a junior at Bradford Golf Club at the age of 7. So now I have been a member for over 50 years. (That's scary to think)
When, why and how did you become club captain?
I had been asked on a few occasions to be the Club Captain but the time had never been right as I am also the Chairman of Guiseley Cricket Club. I also run a business, so it makes it difficult to find the time.
I eventually caved in on a golf trip in Portugal in October 2018 with a view to be coming Club Captain at Bradford in March 2020, but who would have known that the coronavirus pandemic was waiting just around the corner.
What are the universal responsibilities of a golf captain?
They are too numerous to list to be honest. You are generally involved in all aspects of looking after golfing matters at the club, although the impact of the pandemic has certainly changed that. All clubs are now facing challenges that have never been seen before.
One of my duties is to select the 1st team, manage the friendly matches, and liaise with all aspects of the club. I interact with all the different sections; the Club Professional, the Golf Operations Manager, the Course Director and the Head Greenkeeper.
To find out more about how Golf Club have come out of COVID, check out Club Insure's GUR Magazine: Golf Under Repair. We talk to the people who keep golf clubs up and running, questioning them on their experience through lockdown and post-pandemic.
What's your favourite part of being Club Captain?
I get the most joy out of my role when I liaise with members and build on the special relationships that I have with people I have known for a number of years now. There has also been a big change in the management team in the last few months. Because of my background role working full-time within recruitment, I have helped play a pivotal role for the club; it's been really enjoyable to help out where I can.
Club's often relay on the skills and experience of their members. Volunteers are key to the survival and the day-to-day running of a club; they need to be protected. Did you know, clubs and all businesses are liable for an injury or accident if it involves an unpaid employee or volunteer. These members still need to be covered under your Employers' liability insurance. To be sure you are secure, have your policy reviewed by an expert today.
What's your favourite place you've played golf and which course do you want to try?
There are several course I love to play, but the Old Course at St Andrews, is my favourite. I went for a round last year which was very memorable – it's the Home of Golf after all.
I would like to play at some of the Open Championship courses I have not yet played, so Turnberry, Hoylake, Lytham.
How regularly do you play a round?
I try to play golf twice a week. No time for any more, if only.
What's your ideal meal before a golf day?
It's got to be a bacon and egg sarnie and strong coffee.
What's your go-to golf attire?
Plain grey, black or blue trousers and a quality shirt – but always with a baseball style cap.
If there's one thing about golfing culture that you could change, what would it be?
I'd improve the pace of play. Many people play too slowly and have little to no understanding about golf etiquette.
Do you have a favourite moment while on the course?
Getting a hole in one on the 10th. I was on a friends of mine's stag do and this meant I had to buy a round of drinks for a very thirsty bunch of golfers.
What are you looking forward to this year?
One of my very good friends, and fellow member, died of lymphoma last year and his wife organised a fundraiser for him this year that was very well supported. This year we are organising a very big golf day for him May 2022 at Bradford Golf Club which should hopefully raise an awful lot of money.
Fundraising events and charity days are why clubs and local sports venues are so integral to the community. They inspire togetherness and communal spirit.
Clubs such as Bradford Golf Club are integral to the fabric of their local district, and therefore deserve to be protected by the best. If you want your club to have their policy portfolio reviewed and require an expert broker to safeguard your club's future, then contact Club Insure today.