Premium Increases for Flood Based Risks
Insurers view of flood risk is based on many factors. As the flood models change, prices go up and down accordingly. Recent Met Office data has consistently indicated the increasing frequency of extreme weather – which is factored into premiums. Even if a property's flood risk has not changed, premiums can still increase. For example, increases to the sum insured can result in changes to the rating calculation.
The main reason for premium increases in flood insurance is the increased rebuild costs. The Royal Institute of Chartered Surveyors suggest that material costs may increase as much as 17.6% this year. Insurers need to consider these rising costs, as they will result in far higher claim values.
This is where FloodFlash comes in. A FloodFlash policy is often cheaper than a loaded premium from the primary insurer. Using FloodFlash can save thousands of pounds, but how?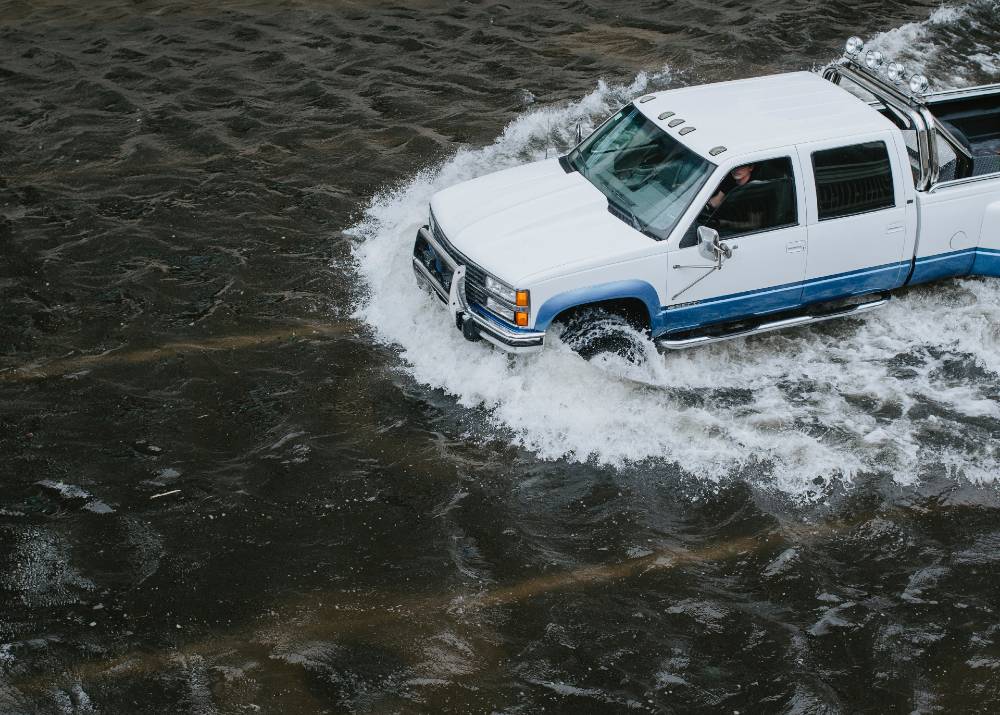 What is Smart Quote by FloodFlash?
Smart quote is FloodFlash's answer to the question: what if clients don't know what triggers to pick? Smart quote produces a suggested trigger setup and bespoke insights for every single client, based on their property's characteristics.
The best thing about smart quote is that it will only get smarter. Over time machine-learning and AI capabilities will help FloodFlash's smart quote learn about real business needs and translate that into more accurate calculations for clients.
To get started – request a quote from us. We have access to all the insights provided by FloodFlash, and we will guide you through the process from start to finish.
Key Findings from the 2022 Commercial Report
Here are some of the key findings from this year's FloodFlash report:
In Britain, over 436,000 commercial properties have at least a low flood risk.
Commercial properties are twice more likely to be at risk from flooding compared to the average property.
Over half of British businesses surveyed agreed that flood insurance is hard to come by.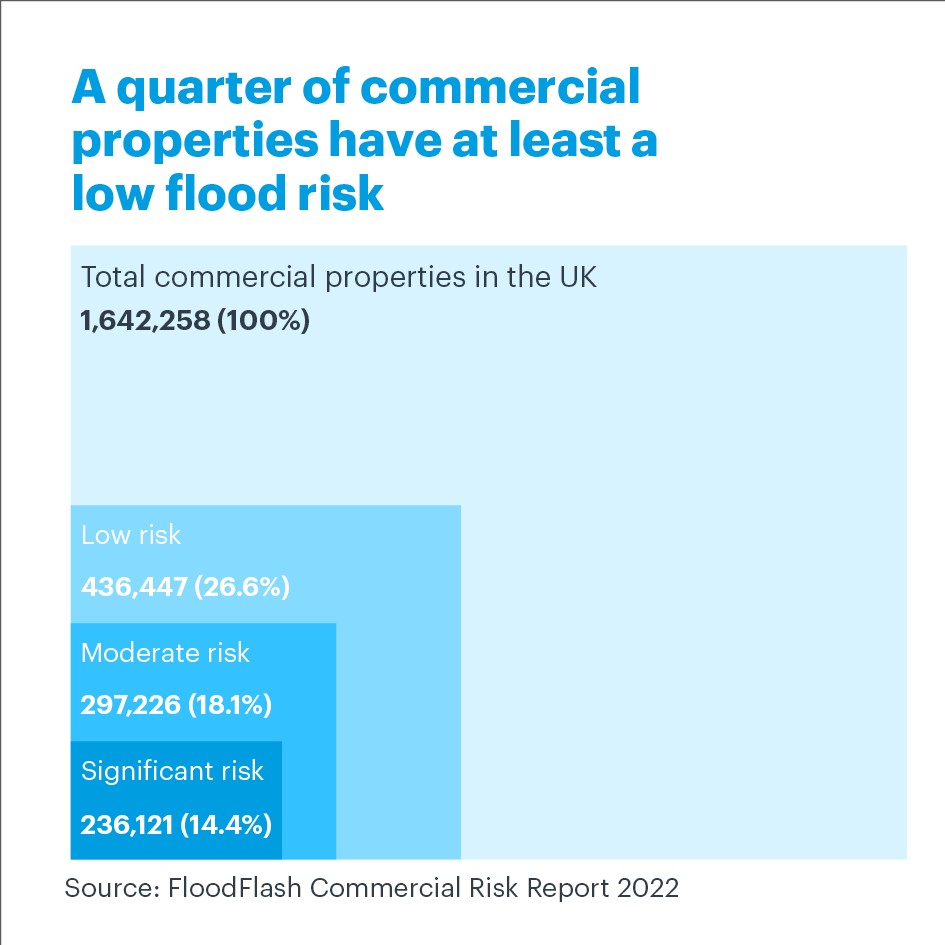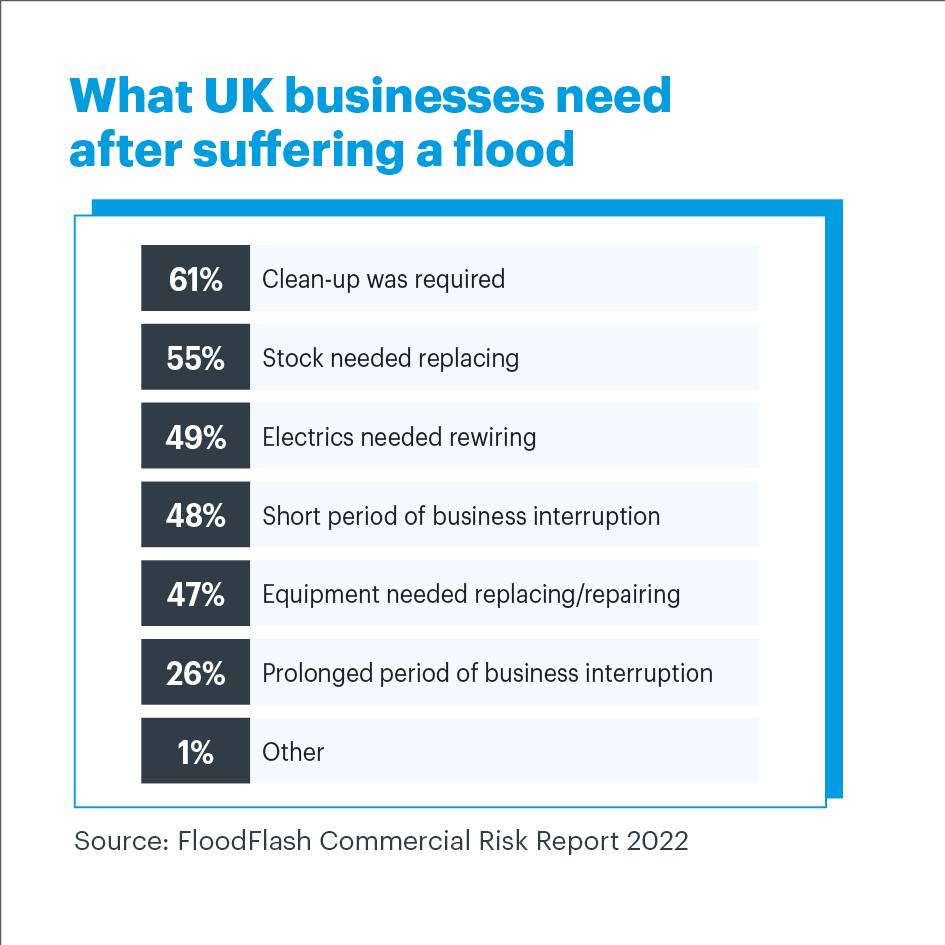 Want to know about the flood risk to your business. Get in touch us and we will work with FloodFlash to provide detailed insight on your risk.
Flood Insurance designed for businesses that are high risk
FloodFlash is available as excess cover. In many cases, it is the best option for businesses that benefit from smart insurance, and perhaps would struggle to obtain flood insurance. Indeed, clients don't need to claim on the main policy to claim on their FloodFlash policy. Clients can also benefit from rapid claim payout. This can be helpful to deal with the immediate costs of flooding such as clean-up or finding alternative premises while you wait for the main claim to come in.
Another advantage of FloodFlash compared to traditional excess is the flexibility. Payout limits can be set to any multiple of £5,000. This means that if you want to see what premiums look like with a higher excess, we can support you. In some cases, increasing the excess and covering the difference with FloodFlash can lead to a significant saving.
Get in touch with your Club Insure account handler to find out about FloodFlash policies and see how much you could save.