This week, Club Insure staff have spent time learning how to use the new defibrillator which will be permanently housed on the outside of our head office in Leeds.
After having recently experienced the devastation that can come from heart-related illness, our staff are keen to prevent others feeling the same loss.
We've purchased the defibrillator in conjunction with a couple of other local businesses, as well as some incredible fund-raising by the different teams within Club Insure.
Why a defibrillator?
Without going too deep into the science, defibrillators administer a shock to try and recover the heart's regular rhythm. They're to be used alongside CPR and 'mouth-to-mouth' whilst the first-aider waits for the ambulance to arrive.
Put simply, defibrillators can be the difference between life and death. If someone collapses from a cardiac arrest, their chances of dying are significantly increased if a defibrillator isn't used. In fact, according to the British Heart Foundation, for every minute it takes for a defibrillator to arrive at the patient, their chances of survival reduce by 10%.
Sadly, only 3% of cardiac arrests happen with the recommended retrieval distance of a defibrillator according to the Resuscitation Council.
Club Insure staff getting used to the equipment
They may be easy to use, but defibrillator training is still a necessity. The first aider needs to know how to apply the shock pads and when to administer the shock.
We're delighted to say that a large group of Club Insure staff, spread from all different departments, are now knowledgeable about how to use a defibrillator.
Here are some pictures of them learning the basics from an expert trainer: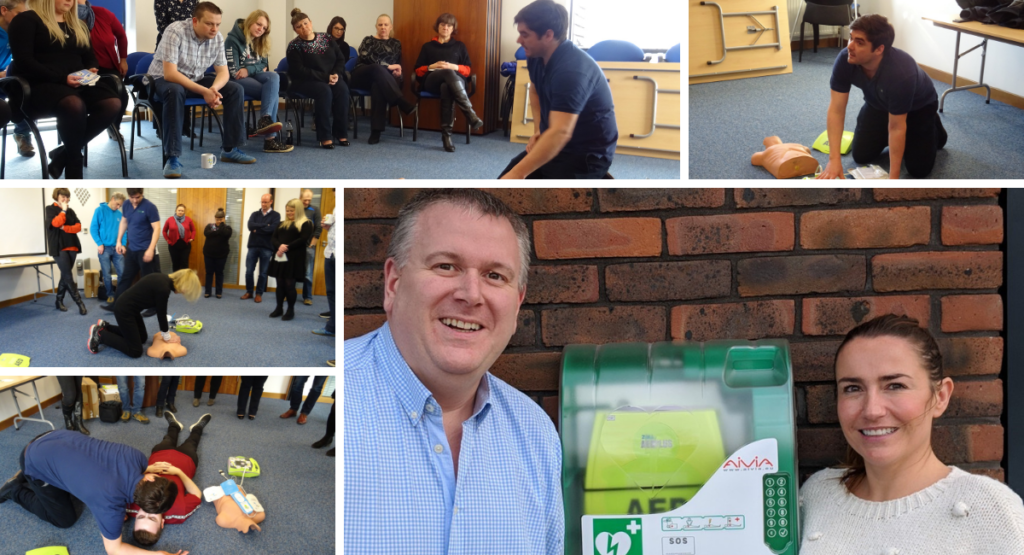 If you'd like to donate to the fund raising efforts, you can do so by contacting us through social media on Facebook, LinkedIn or Twitter.