Health and Safety for clubs putting on a firework display and bonfire event
Everything businesses need to know when organising a firework display – including health and safety, risk management, and insurance.
At Club Insure, we talk to occupational health expert and health and safety consultant for businesses, Cara Algar. Cara is Sentient's Health & Safety Consultant, she provides useful advice about what risks are present at a bonfire event and what clubs need to do to manage their risk.
– Cara Algar, Health, and Safety Consultant, CMIOSH
What are the risks and dangers posed by bonfires and fireworks?
Fireworks are fun, but they are also explosive, so they must be handled extremely carefully; they are a significant fire risk, not only during the event, but also in storage. Sadly, every year, accidents leave people – many of which are children – with life changing injuries, and burns to the hand, face, and eyes.
Bonfires, as with fireworks, are a big part of the festive celebrations, but if not correctly managed they can go wrong very quickly, creating a big risk to both people and property.
If correctly planned, events can be managed safely, let's make sure that this festive season is one to be remembered for the right reasons.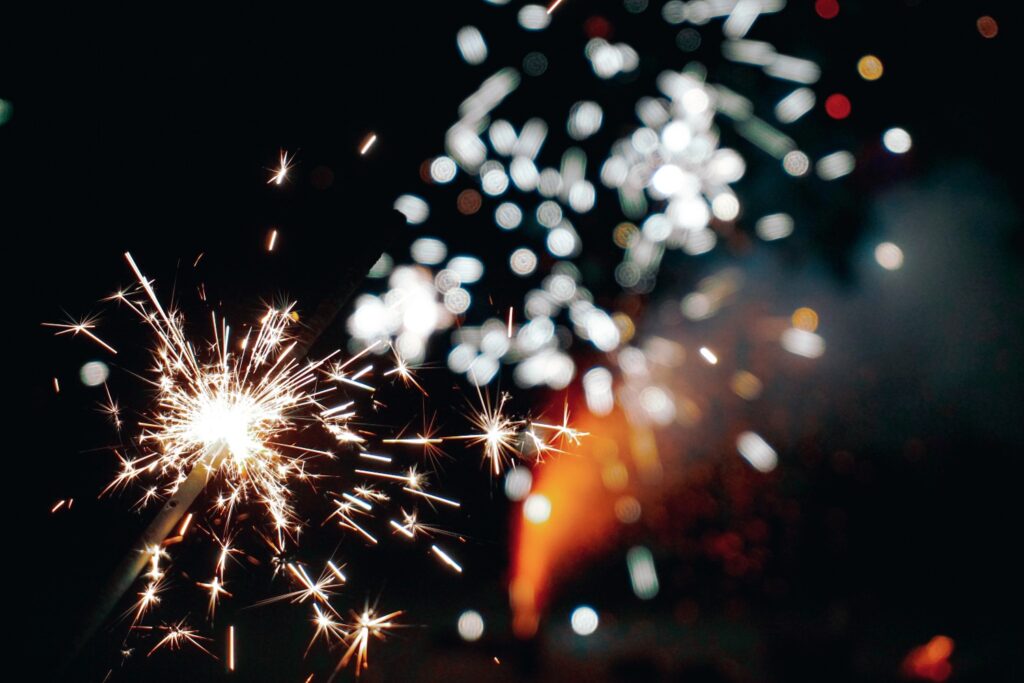 How can firework risks be successfully managed by event organisers?
The key to managing a safe event is to ensure it has been risk assessed, and properly planned, consider the points below when organising your event:
Ensure you have purchased fireworks from a reputable supplier, they are CE or UKCA marked, and are within category F1, F2 or F3. – F4 category fireworks require a license and a trained professional, these are not to be expected of a sports club firework show.
Consider purchasing a complete display kit (rather than purchasing single fireworks), this will be easier, often more affordable, and will come with instructions for the display.
Make sure that firing operatives have fully understood the instructions in advance, perhaps a few days before. Confirm they are confident and know what to do with any misfires.
Assess the area you are going to use for the display, check there are no overhead obstructions, such as trees, telephone/power lines, or roads that will be affected. Check this during the daytime, far before the day of the event.
Ensure you have enough space, make a plan and map out the event. Include the spectator area, safety area, firing area, and fall-out area (dropping zone if applicable). Make sure you follow the maximum distance required and that nobody can enter the area where fireworks could fall.
Set-up in the day, to avoid rushing, and so it can be done with care and attention. Once set-up, do not leave the area unattended.
If you are in any doubt, use a reputable display company instead of firing them yourselves.
Remember things can change, so review your plans before the event. Check the weather forecast for high winds, this may force you to change you event's layout, or it may force an early finish, or even in certain conditions, a cancellation.
Insure Our Event are Club Insure's chosen event insurer for cancellation insurance. If the event can't go ahead because of unforeseen circumstance or bad weather, cancellation insurance will cover the costs.
Cancellation Insurance for fireworks display and bonfire events
How to plan for emergencies at a bonfire event or firework show?
Although nobody likes to think about things going wrong, it is important to plan for emergencies to make sure you are prepared.
Clubs should ensure they have sufficient fire-fighting facilities such as buckets of water, fire extinguishers. If staff are expected to use them, they should be provided with training – using fire extinguishing equipment must only be considered if safe to do so, and for small fires.
Provide a means of communication such as radios, or, if relying on mobiles, ensure you have reception in all areas. Consider providing a loudspeaker to give instructions to everyone at the event.
Remember to consider the risks before the event itself, fireworks must be stored safely. Ensure you have reviewed your fire risk assessment. Here are some simple precautions to follow:
How to manage fire risk at your bonfire event or firework display:
Where possible, store in a secure external building that is not occupied.
Store in a closed fire resisting container.
Never store fireworks on a fire escape route.
Ensure that fireworks are kept in the original packing.
Always store in a cool, dry place away, from any sources of ignition and other flammable substances.
Keep them dry and move them on the day of the display.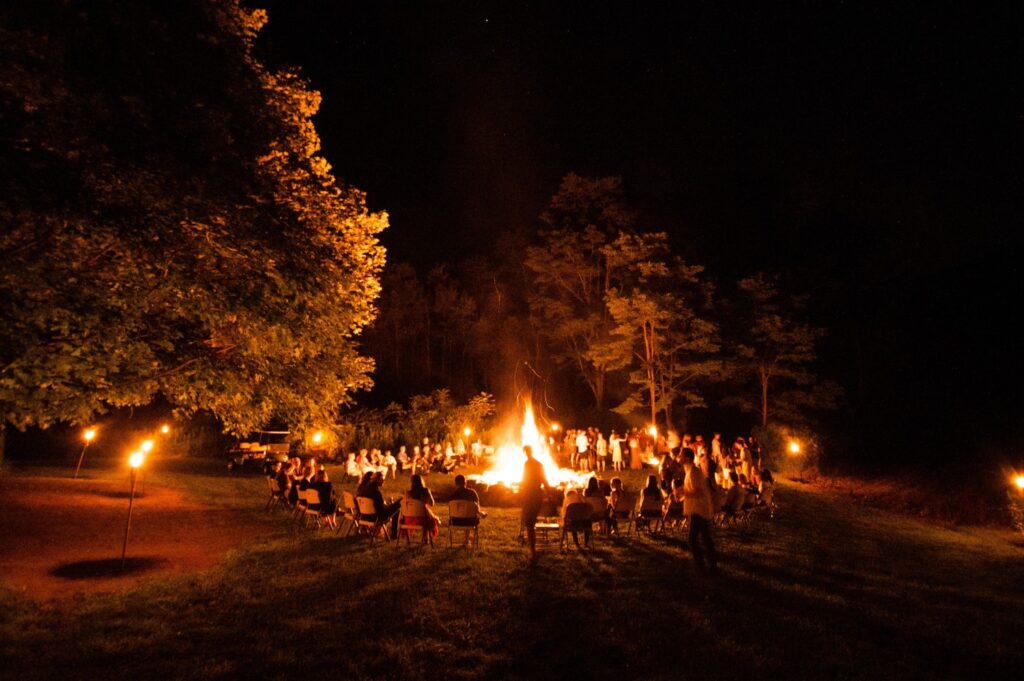 How can bonfire risks be successfully managed by sports clubs and social clubs?
If you plan to have a bonfire at your venue, you first need to consider if you have enough space to do this as well as a firework display.
Ideally, the bonfire would be lit after the display, as there is a risk of stray spray-sparks accidently setting them off. The bonfire needs to be risk assessed.
Bonfire risk assessment for sports and social clubs:
Make sure the fire is a safe distance away from any combustible and flammable materials, other buildings, roads, and any public right of ways.
Ensure there are no overhead power lines, check during daylight.
Keep the structure secure, and check it again before it is lit, to ensure no children or small animals have climbed inside.
Ensure the bonfire does not contain any dangerous rubbish, such as aerosols, batteries, foam filled furniture, or materials that produce light ash, such as cardboard.
Ensure you have a nominated person responsible for lighting the fire and that their clothing is of low flammability.
Do not use petrol or paraffin to light the fire, use paper and solid firelighters, in two or three places.
Make sure the fire is downwind of spectators.
Make sure to do final checks before igniting the bonfire: – Is it still safe? Has the wind increased or changed direction?
After the event, extinguish the fire and allow it to cool before leaving the site.
Risk assessment for an event with Insure Our Event
What other key considerations should business owners make when organising a firework show or bonfire?
Don't only focus on the higher and more obvious risks, such as the fireworks. Remember to risk assess the whole event.
More risks to look out for when putting on any event at your club include:
The location of any outdoor bars
Slips and trips
Electrical safety for outdoor equipment
First aid needs
Illness
Security
Emergency vehicle access
For larger events, such as firework displays and bonfires, clubs will need to liaise with the local authority, police, and fire and rescue service.
For further information, see the HSE, or the document from the Explosive Industry Group.
Is insurance required when putting on a firework display or bonfire?
As a Club Insure client, we recommend you contact your account handler at our offices. Discuss with us your event, what you hope to organise, and we will double-check the facts alongside your policy agreement. This goes for any event you plan to hold at your premises, on principle. We do not want any clubs or clients to breach their insurance terms and fall into a difficult situation.
In most cases, fireworks and bonfire are not covered by standard club insurance. This is because it is classed as an event, and usually involves an increase to the normal footfall on your premisses. Also because there is a higher risk present, such as of injury, slips, trips.
The insurance increase provided by Firework Display Insurance and Bonfire Insurance includes public liability cover, event equipment cover, and cancellation cover. If you are planning to utilise extra staff or volunteers at your event, perhaps to clean up or for security, then you may also need employer's liability insurance for an event.
Ensure you have the cover necessary to run an event by contacting Club Insure. Even if you are not a client yet, we will be able to provide useful advice. Get an idea about the price of event insurance by filling out Insure Our Event's instant quote form.
Learn more about Firework Display and Bonfire Event insurance