Cycling a grand total of 173 miles, the team from Club Insure and The Romero Group will cycle in convoy from England's west to east coast. The challenge is aimed to raise money and awareness for Prostate Cancer UK and is in memory of Lloyd Pinder.
Billy Wakefield, Account Manager at Club Insure, has been eagerly anticipating this date since the challenge's imagining. A novice to long-distance cycling, Billy has bought himself new equipment specifically for this challenge. He fully intendeds to go all-out and complete the 173 miles for such an important cause.
Billy is so proud to be cycling in memory of his friend and colleague Lloyd Pinder. Prostate cancer is a disease which has affected the lives of so many, so its important to raise awareness and fundraise.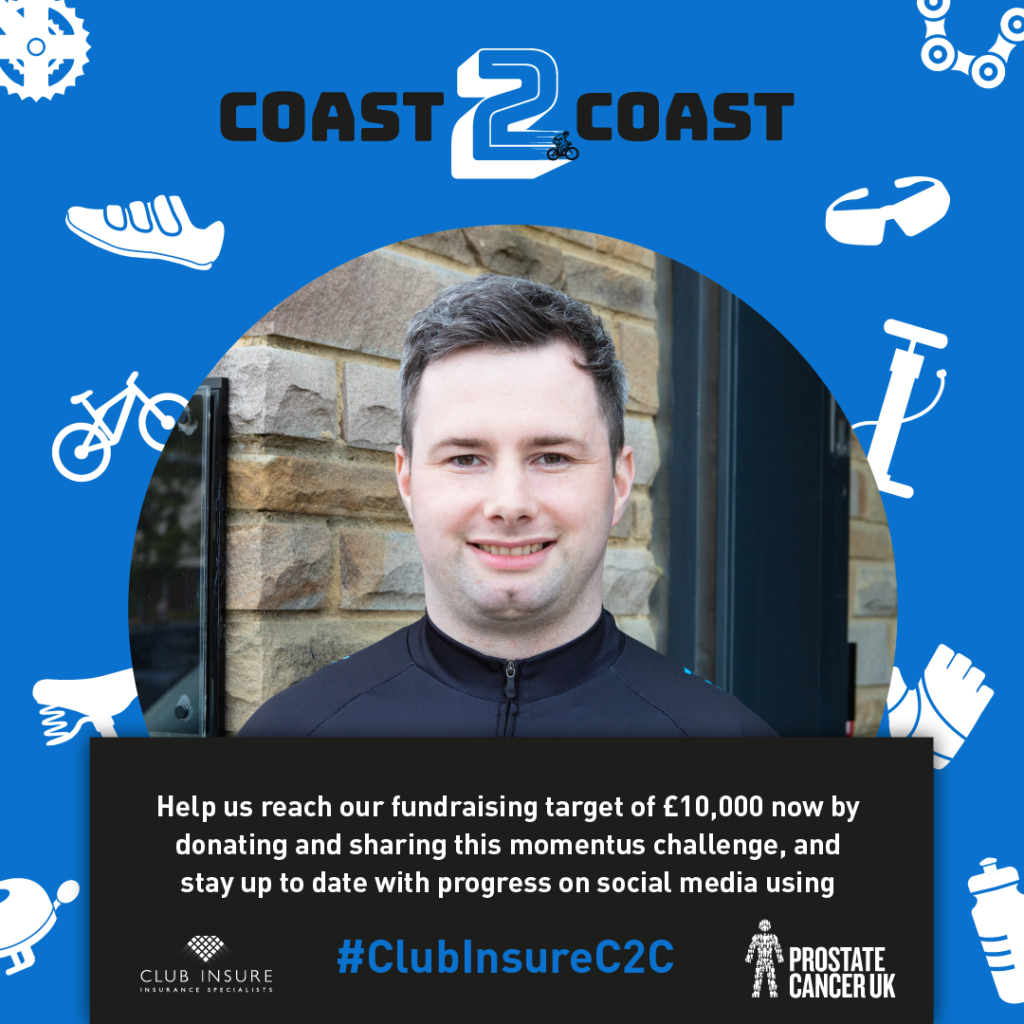 Cube SL Road 2021, I've just bought it for this challenge!
What made you start cycling?
To do a challenge for Lloyd. We'd discussed it before with Daniel Cracknell, mentioned about doing a Tour de France stage with Dan a few years ago, but nothing came of it. It'd be great to do one in his memory.
What's the longest ride you've completed?
What's your favourite ride?
What's your favourite exercise snack?
What part of your body aches first after a long ride?
What's an essential piece of cycling gear you couldn't do without?
The wonderfully padded cycling shorts.
What's the worst cycling accident?
I'm not sure I've cycled enough to have an accident. But I won't answer because I don't want to jinx myself.
Best place you've gone cycling?
Its also the only place I've gone cycling – the Chevin.
Have you attended any cycling events?
I was doing some work at a new American Golf in London and the Tour de France was riding through London at the time, in 2014. I had my data cabling hi-vis vest on and went to watch the riders come through on their way to the Mall.
The crowd grew and grew, but then it started to rain…and so people put their brollies out. This made a lot of people very angry and they kept shouting at me to tell them to put the brollies down. They thought I was a steward!
Because of it I got a great view of the race and got to tell people off too!
Do you prefer Lycra or t-shirt and shorts?
I'd go for t-shirt and shorts any normal day but I'm proud to wear my new lycra Prostate Cancer UK cycling top, riding in memory of Lloyd.
The Challenge
The team have set an ambitious goal of raising £10,000 for the charity, on top of the £25,000 donated annually by the business. Club Insure and The Romero Group continue to have that same commitment to supporting Lloyd and the cause close to his heart, which is why his determined spirit lives on in all the work they do to fundraise for Prostate Cancer UK.