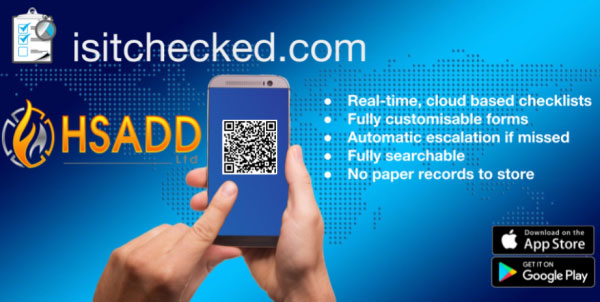 Club Insure Ltd are multi award wining insurance brokers specialising in tailor made insurance policies for sports and social clubs in the UK, we strive to innovate and lead the way in leisure focused insurance products, and as such we are always seeking out new products and services we feel our clients would benefit from.
We are therefore pleased to announce we are working with real time checklist systems Isitchecked, this is a brand new, real-time solution for our clients, using Isitchecked can effectively aid the defence of litigation claims which may be let down by missed or poor quality paper checklists.
Isitchecked; is a unique, real-time checklist system with timestamp and GPS capabilities. Isitchecked can be customised to any business; from a small bar or social club, to an extensive hotel or catering business, and many more.
Isitchecked was developed following a failure to provide sufficient compliance and evidential value to defend against slip/trip and many other claims using paper checklists.
A unique, real-time solution was developed to create a system that is robust enough to stand up to the evidence thresholds required in court. Isitchecked was developed over a two year period and extensively tested in a fully operational venue (capacity of approximately 2000) with several thousand customers per week.
One of the actions that became apparent was that where paper checks were being completed every 30 minutes, with Isitchecked, the same checks were recorded by different staff, every 4-7 minutes: a dramatic improvement over paper.
Recent example of defence of Premises Licence
In Merseyside, a series of test purchases took place where actors impersonated intoxicated customers. This was part of the 'Challenge 21' programme and enabled licensing officers to identify premises which may be in breach of The Licensing Act 2003 (not selling alcohol to already intoxicated customers).
The premises used in this example was an independent bar that had, for a number of years, used a Compliance Management system to conduct staff training and had been using Isitchecked for nine months.
Not only was the test purchaser refused service by a member of staff, but a QR code had been used to record the 'Refusals' – a 'refusal record' is a requirement and is essential – Paper records can be lost, Isitchecked cannot.
Screen capture of redacted report
This report had 46 entries in a six month period where bar staff had refused to serve alcohol as the customer appeared too intoxicated. A further 52 people were recorded by security staff at the entrance as 'refused entry' as they appeared too intoxicated. Having spoken to the venue's specialist licensing Solicitors, they agreed that even if the test purchase had failed, the evidence of refusals would have demonstrated that the premises had a solid system in place. This would have enabled the premises to use the 'due diligence defence' should the license have been subject to review.
When claims are made it is crucial that personnel perform with efficiency, diligence and speed. This can play an important part in the process and the outcome. The successful defence of a claim demands consummate professionals with the knowledge and experience to ensure all required procedures are in place. Each company check list needs to be retained should it become appropriate to provide them as evidence. Claimants that wish to pursue any matter have a three year period from the date of the incident in which to do so. Having checklists to hand 3 years on is easy with isitchecked. Get in touch now for more information