The last few years have seen trampoline parks spring up all over the UK. The increase in popularity of the parks combined with the extremely unique nature of this kind of leisure facility has highlighted the need for comprehensive and carefully structured insurance.
When operating a leisure business it is imperative that your insurance is provided by recognised industry specialists with experience and full knowledge of every aspect of the sector. We are renowned providers of bespoke insurance policies to a wide and varied selection of businesses on a nationwide basis. Our award-winning services are structured to equip our clients with the highest quality protection and as a member of The International Association of Trampoline Parks (IATP) we can offer detailed market knowledge and competitively priced insurance policies.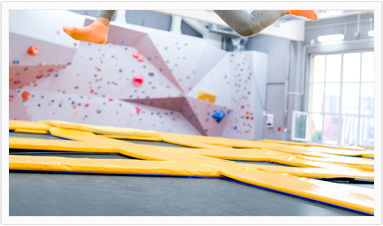 Our panel of expert and British 'A' rated brokers dedicate themselves to devising policies that suit the particular needs of each individual business. Your policy will be designed to deliver every advantage such as covering your cash, equipment and legal liabilities as well as cover for an assortment of risks including:
Bounce Boarding
Bungee Trampolines
Battlebeams
Dodgeball
Foam Pits
Free Jumping
Fitness Classes
Obstacle Courses
Toddlers Jump Areas
These are just a few of the associated risks but you can be sure that the policy we put in place for you will suit your specific requirements and provide the security and protection you need. Along with trampoline park insurance we provide a risk management consultancy service that focuses on helping you achieve beneficial and long term management. We take a diligent and innovative approach to our work in order to provide the confidence and assistance our clients require to successfully facilitate important employment and health and safety management issues.
For an initial discussion, or to arrange a no obligation meeting, simply complete our contact form or call 0844 488 9204.